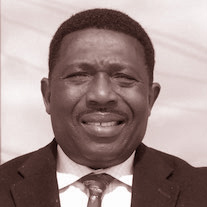 Professor of Soil and Environmental Chemistry Director, Organic Agriculture and Biogas Production
Dr. Joe K. Kpomblekou-A is a Professor of Soil and Environmental Sciences in the College of Agriculture, Environment and Nutrition Sciences at Tuskegee University. He holds a Ph.D. degree from Iowa State University in Soil Science. His present research emphasis is on fate and kinetics of nitrogen (N), sulfur (S), and phosphorus in the ecosystem, chemistry and biochemistry of N and S in animal waste-amended soils including the effect of trace elements on biochemical reactions in the ecosystem. The ultimate goal of his research is to gain fundamental knowledge that will aid in the development of management practices that prevent the accumulation of contaminants in the ecosystem.
Dr. Kpomblekou-A is in charge of the organic agriculture and biogas production program at Tuskegee University; together with other scientists at four land-grant universities (Auburn University, Mississippi State University, North Carolina State University, and Oregon State University) and Alabama Sustainable Agriculture Network are promoting organic agriculture throughout the Southeast United States.