Climate change poses critical risks for farmers and ranchers, and endangers the soil, water, and other resources on which food production depends. Rising temperatures have already intensified droughts, heat waves, and storms, making it harder to grow crops and raise livestock.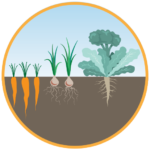 The good news is that organic systems that emphasize soil health help farmers and ranchers increase resilience to the impacts of climate change. There is also extensive research demonstrating the potential of organic systems to reduce agriculture's contribution to climate change (i.e., mitigate climate change).
OFRF Organic Policy: on the Hill and in the Fields.
OFRF has been amplifying the voice of America's organic farmers and researchers for three decades. Our leadership in organic policy yields support through Congress, USDA, and state governments. OFRF's unique strategy directs advocacy on Capitol Hill and regional grassroots throughout America. We are joined by thousands of advocates, just like you, who are committed to making organic farming the leading form of agriculture in America.
Our goal is to provide you with the best information to sustain powerful organic advocacy in your community.
Please feel free to use the following Organic Advocacy Tools. You may always contact us if you need additonal items, we'll do our best to support you in raising the voice of organic farmers.
Find out who represents you in Congress by searching a database by your zipcode or state.