2023 is a big year for the food and farm systems in the United States. This year the 2018 Farm Bill expires, and a new Farm Bill must be passed. The farm bill is a piece of omnibus legislation that gets passed every five years or so that impacts farming livelihoods, the practices used to grow food, and even what is grown. The farm bill covers programs ranging from increasing access to crop insurance for farmers to providing access to healthy, nutritious foods to families; from beginning farmer training to financial and technical support for sustainable farming practices. Essentially, the farm bill provides the policy and legal frameworks that make up our food and farm systems. What gets included or excluded from the farm bill has a tremendous impact on farming and the food system in the US for the next five years. 
Simultaneously, the annual appropriations process is also underway. This process happens every year and establishes the discretionary budget for the United States. Congress uses what is known as an authorization-appropriation process. Put simply, authorization of spending establishes policy priorities and paths forward for agencies and the programs they administer. Appropriations then funds those agencies and programs, unless there is mandatory funding included in the farm bill.
The farm bill is an authorization bill. But, it also includes some mandatory funds, which are  funding sources outside of the general appropriations process. The general appropriations process determines the budget for what is authorized in the farm bill but not funded through mandatory funding. Drafting a policy is only the first step in the advocacy process. Making sure the government has the tools and the budget it needs to effectively implement and administer those policies and the programs that are created is just as important. If something is determined as a priority in the farm bill, but then doesn't get allocated sufficient funding in the appropriations process, it won't get very far. This is why OFRF, along with our partners, engage in both processes. We advocate for both the policies and the funding to help organic farmers thrive.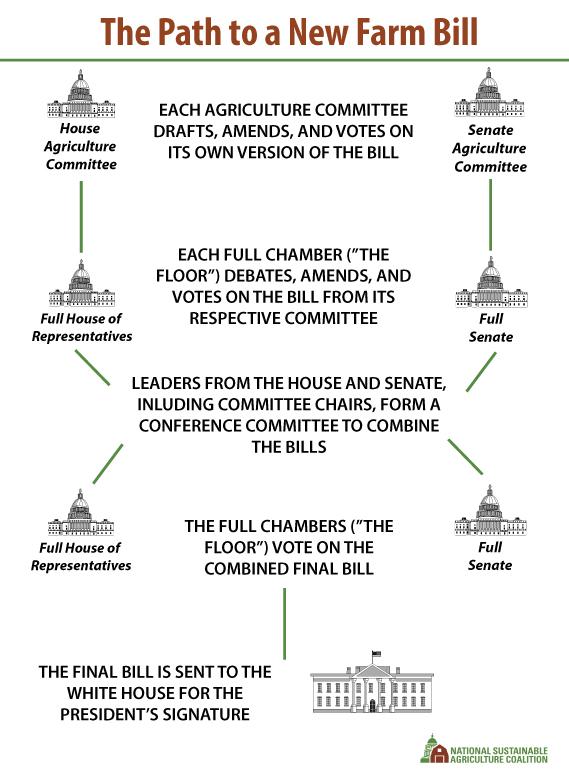 As an organization committed to the improvement and widespread adoption of organic farming systems, OFRF is deeply involved in both the farm bill and the appropriations processes. We are working hard to advocate for organics at every turn.
At the core, OFRF is concerned with:
Building resiliency to both climate and supply chain disruption through organic management and more localized food systems.

Investing in research in organic agriculture. Research has significant benefits to public good and return on investment, with each dollar of investment into public research providing over $20 in economic benefit.

Supporting the expansion of organic production to meet increasing market demand for organic products through additional investments in research relevant to organic producers.

Making sure organic producers, and those interested in transitioning to organic production, have the research tools and opportunities needed to thrive.
Demand for organic products continues to grow while domestic production has not kept pace, resulting in consumers purchasing more and more imported organic products. Agricultural and economic research is essential to support organic producers and facilitate increased domestic production of organic products. The policies OFRF is advocating for will result in expanded research tools to farmers. They also provide market signals to researchers that organic agriculture research is a valued and important area of study. This incentivizes young researchers to pursue organic agriculture research projects and expertise in their careers.
Public investments in agricultural research can also have a significant impact on rural agricultural communities. This is something that OFRF continues to center in our work. For example, many grant research programs require that research projects involve local agricultural producers. This participation means that farmers, ranchers, and food producers are involved in the research and ensures that the research produces action-oriented, usable products that increase the economic profitability and ecological vitality of farming operations. Additionally, nearly all projects provide compensation to the participating farmers, paying them for their time and effort involved in the research. This represents a direct benefit to producers engaging in research projects.
The Farm Bill
OFRF's priority areas are:
Increase the organic research being conducted by Agricultural Research Service (ARS) to a portion equal to the organic market share.

In 2022, the ARS (the sole in-house research operation at USDA) spent ~$15 million on direct organic research out of a $1.8 billion budget, or less than 1%. That same year, the organic product sales market exceeded $60 billion for the second time, representing over 6% of the total market. Organic and conventional producers depend on research products that help them make economically and ecologically smart decisions. The long-term research projects at ARS produce high-quality research products that are not always possible through shorter-term, grant-funded projects. The Farm Bill is an important opportunity to send a clear message to ARS that they must increase the amount of funding going to organic agriculture to at least its market share to help producers meet the opportunity of increasing demand for organic products.

Increase investment into the USDA's National Institute of Food and Agriculture (NIFA) research into organic management strategies

OFRF is calling for widespread investment across all NIFA research programs to meet the increasing need as more producers transition into organic production, especially given that there is no research component supported by the USDA's historic Organic Transition Initiative. Increasing NIFA funding for organic research across all competitive grant programs, from OREI to the Agriculture and Food Research Initiative (AFRI), would provide continued support for developing the technical service and institutional knowledge necessary to meet the needs of producers nationwide.

Fully fund and expand the Organic Data Initiative (ODI)

ODI is a multi-agency initiative that performs economic analysis, organic risk assessments, survey and statistical analysis, and market data collection. This program has been successful in providing valuable information to Congress, government agencies, and the organic sector. There has not been a full, systematic USDA review of the organic market since 2014. Funding the ODI would allow the USDA to provide that service. An increase in funds would allow for stronger intra-agency cooperation and be used to modernize systems and provide high-value, accurate organic price reporting and organic data collection.
In order to address these priority areas, we are working with our partners in Congress in both the farm bill process and the annual appropriations process, including introducing multiple marker bills and submitting testimony to committees. A marker bill is a bill that is introduced in Congress to signal policy ideas and gather support. A marker bill communicates widespread support through the process of co-sponsorship. These marker bills do not get adopted as standalone bills, but are designed to be incorporated into the larger farm bill. Marker bills help lawmakers, industry representatives, and grassroots advocates build support for policies. With large omnibus legislation like the farm bill, having smaller packages like marker bills help ideas get attention. The more support that a marker bill receives, the more likely it will be to get included into the final bill, so keep an eye out for opportunities to support these efforts!
Appropriations
In our appropriations advocacy for 2024, we have four specific requests for discretionary funding, intimately related to our policy and program advocacy: (1) $35 million and report language for organic agriculture topics at the Agricultural Research Service (ARS); (2) $10 million for the Organic Transitions Research Program (ORG) operated by the National Institute for Food and Agriculture (NIFA); (3) $60 million, or full authorized levels for the Sustainable Agriculture Research and Education Program (SARE) operated by NIFA; and (4) $1 million for the Organic Data and Markets Initiative (ODI), a joint initiative of the Agricultural Marketing Service (AMS), Economic Research Service (ERS), and the National Agricultural Statistical Service (NASS).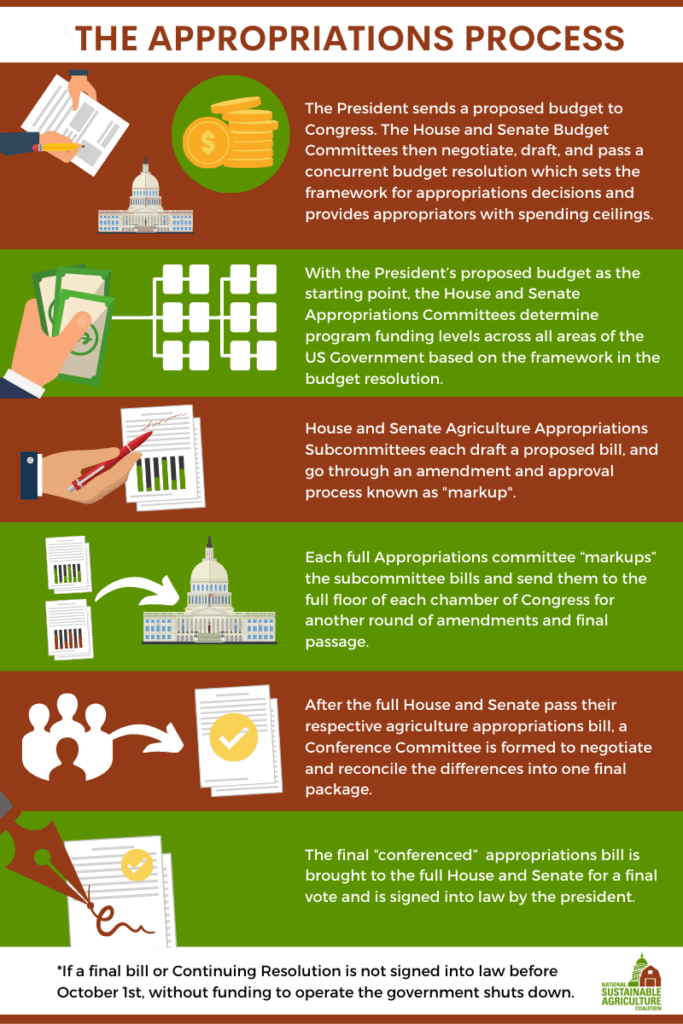 All of the policies included in these efforts represent countless hours working with our partners, and a significant step toward providing needed investments into organic agriculture research, and supporting a rapidly-growing and -maturing organic food and agriculture market. 
To deepen the impact of our advocacy, though, we need your help! Facts, figures, and statistical breakdowns of the effects of increased public investment in agricultural research can be compelling, but the experiences and stories of researchers and farmers communicate the impact more than a report ever could. This is why we at OFRF are beginning to implement a new strategy in our policy advocacy: story banking. We are collecting and amplifying stories of researchers who have effectively shared their research with decision-makers. The first example we shared is the story of Dr. Eric Brennan, who was able to weigh in on Ag Order 4.0 and change the course of history. If you have a story about the impacts of your research, please reach out to share it with us! 
Marker bills we worked with Congressional partners to craft will be introduced over the next two weeks. We are excited to share more details about them and our advocacy work soon. Stay tuned.
. . .
Read more:
NSAC, What Are Appropriations, https://sustainableagriculture.net/our-work/campaigns/annual-appropriations/what-are-appropriations/
NSAC, What is the Farm Bill, https://sustainableagriculture.net/our-work/campaigns/fbcampaign/what-is-the-farm-bill/
USDA, Farm Bill Spending, https://www.ers.usda.gov/topics/farm-economy/farm-commodity-policy/farm-bill-spending/