Shady Side Farm
Mike Bronkema runs and operates Shady Side Farm in Holland, Michigan. He was one of the farmers that OFRF spoke with about Integrated Crop-Livestock Systems, the practice of raising livestock and crops together in ways that benefit the whole farm ecosystem.
OFRF is honored to share a recording of a conversation with Mike Bronkema about Integrated Crop-Livestock Systems at his farm. You can listen now by pressing the "play" button below.  Or click this link to download it and listen later.
Farm name: Shady Side Farm
Farmer name: Mike and Lona Bronkema
Location: Holland, Western Michigan (traditional homelands of the Peoria Tribe, Odawa/Ottowa Indians & Tribes, and Potawatomi).
Products: Heirloom dry beans, open pollinated corn, small grains, hay.
ICLS practices: Grazing & terminating cover crop, breaking up pasture for crops.
Years certified organic: Since 2010.
Acreage: Own 150 acres, rent 20 acres nearby.
Type of livestock: Belted Galloway cows, sheep.
Markets: Farm store, farmers markets.
Years in operation: Since 1992.
Farm crew size: Self, some help from wife and parents.
Uniting Soil Health, Livestock, and Heirloom Crops: Mike Bronkema and Shady Side Farm
Mike Bronkema gets excited talking about the changes he's noticed on his farm since they began integrating crop and livestock operations. Soil health, bacteria and fungi, using hay to harvest excess phosphorus out of the soil… these might not seem like a big deal to the average person, but to a farmer intimately connected to his livestock, the land, and the heirloom crops he's raising, these things make a huge difference to Mike.
Mike runs and operates Shady Side Farm in Holland, Michigan. Along with help from his wife, Lona, their adult children, and Mike's parents he farms on 150 contiguous acres, and an additional 20 acres that they rent nearby. He was one of the farmers that OFRF spoke with about Integrated Crop-Livestock Systems, the practice of raising livestock and crops together in ways that benefit the whole farm ecosystem.
Mike has been farming since 1992, and transitioned to certified organic in 2010. He and his wife are first generation farmers. When a neighboring farmer was getting ready to retire, and wanted to see his land stay in agriculture, Mike and Lona took over. At that time the farm was primarily a chicken operation, raising pullets for egg production. They kept that up for the first couple of years and then they slowly began to diversify the operation. "In 2004 we introduced sheep and started rotationally grazing them," Mike explained. "In 2010 we added in heirloom dry beans, and in 2011 we added in Belted Galloway cows that are certified organic," Mike said. They eventually phased out poultry entirely, raising the last batch in 2016. They currently grow 20 different varieties of edible dry beans as well as heritage small grains, such as einkorn and spelt, and open-pollinated corn
While they became a certified organic operation in 2010 their path into organic farming began several years before that when they started exploring options for composting the chicken manure. "We had all those chickens," Mike said. "55,000 chickens!" It was a lot of manure to manage. They hired a consultant to learn about organic composting, and ended up working with that person to shift from using conventional products to using OMRI (Organic Materials Review Institute) approved products, and eventually into the integrated methods they are using today.
That's when Mike really started to get into the nitty gritty of soil health and nutrition. The organic consultant helped him shift his thinking from N-P-K to bacteria and fungi, and how to cultivate healthy populations of bacteria and fungi on the farm. With that in mind, he introduced sheep and cattle to the farm to rebalance the soil after the long term continuous presence of chickens, who had left the soil very high in phosphorus. Growing and harvesting hay for the sheep and cattle also helped remove excess phosphorus from the soil.
Mike has found that he learns a lot from observing the animals. "We ran sheep for a number of years," he said. "And then all of a sudden we ran into an issue with parasites in the sheep." There was a patch of milkweed in the pasture [a host plant for monarch caterpillars], and Mike noticed that when the sheep got to that spot they were stripping the plants of their leaves. "I had to ask the question," Mike continued, "why were they doing that? Come to find out it was a way that they were paying attention to their bodies, and their bodies needed some way to have parasite control." Milkweed contains a toxoid that can take out or reduce the parasite load in grazers and Mike realized that was the reason the sheep were so aggressively grazing the milkweed. "So I started looking at where I could find those same things in some planting mixes I could use for the lambs to graze on," Mike said.
That's when Shady Side farm began to diversify their pasture mix, and shift away from just traditional grass and alfalfa. "We added in birdsfoot trefoil, which has one of those tannins in it," Mike said. "We added in clover. So now we have four different varieties of legumes in there, which are putting nutrients back into the soil." That nitrogen-fixing pasture mix also prepares the soil well to transition out of pasture into the corn and bean ground for subsequent plantings. "We still needed the grass in [the pasture mix]," Mike said. "So we've gone away from the tall fescues, to a meadow fescue, a little bit of timothy, and a perennial rye grass. That makes up the grasses. The other things we've added are chicory and plantain, which are two more things that have those toxoids in them for reducing parasite loads." 
This kind of observation, trial and error, and continual adaptation is all part of the process. "I'm on a continual learning system here," Mike said, noting that sometimes implementing new ideas is its own kind of challenge. "Sometimes you hear things or learn things at one
place, and then you don't implement it for a number of years. It takes time to settle into the brain."
The ideas that he's implementing now with crop-livestock integration involve rotating animals on pasture in a 12-48 hour cycle, and an annual crop rotation that allows the animals to help prepare the ground for the heirloom corn, bean, and grain crops that they grow. Describing his rotation system in early March Mike said "Currently the cows are out on pasture. They're on one of the fields that will be rotated out of hay production this year and rotated into corn and beans." 
Shady Side Farm raises Belted Galloway cows, a hearty breed that's well adapted to being outside year round. "By having them out on the field at this time of year, they're actually taking the sod that is there and making it weaker by overgrazing it," Mike explained. "So when it comes to taking it out in the spring, that sod will be easier to take out."
There are food safety considerations with having livestock somewhere that will get planted into food for human consumption. Regulations specify that a minimum of 120 days must pass between when manure is applied to a field and when a fresh vegetable product is harvested. This ensures that pathogens can't pass from the manure to the fresh food. To adhere to these food safety considerations, Mike makes sure to take the cattle off of the fields with plenty of time before he expects to be harvesting any dry beans. "We move the animals off in the beginning of May," Mike explains. "Harvest doesn't happen until mid-September, which gets us far enough into the season where we're beyond those 120 days."
Once they move the cattle off, the work to prepare for planting begins. "Come spring time we go into doing a lot of field work," Mike said. He uses a disc to cut through the sod. "The disc is a nice cutting tool," Mike said. "It doesn't do real deep tillage but it will actually take out the sod." They start preparing the fields as soon as the ground can be worked, and then plant corn and soybeans once weather conditions have warmed enough for good germination. 
Once the corn and soybeans get harvested, the crop rotation continues. The beans are harvested early enough that they can be followed with fall-planted small grains. Corn is harvested later, so they usually follow that up with a spring planted crop, like oats or barley, depending on what they need for supplying the animals. "That takes us back into the spring," Mike said. When the small grains come off, they prepare the fields for planting back into pasture mix for the animals to graze the following year. Those areas will then stay in pasture for 4-5 years before rotating back into the crop production cycle again. 
A critical part of successful crop-livestock integration is being able to keep the animals in the areas you want them, and out of the areas you don't. In Mike's case the farm actually started with too many fences. "We couldn't get equipment in to do the tillage that we needed to," Mike explained. "We ended up taking out a bunch of fences." Now their fencing system is a perimeter fence set up with five lines going around, with the top line at 40" and the bottom one 16" off the ground so that Mike can still weed whip underneath it easily to keep the fence line clean. 
With 20 acres in contiguous square blocks this gives Mike a perimeter fence that he can run electricity through. "We've got divider fences that can be hooked up with spring gates or string gates," he said. "We can transfer power from the perimeter fence into an interior divide." They use a variety of fencing for the cattle, sheep and lambs. The paddock systems get set up and moved on a daily basis throughout the summer, so that the animals are constantly moving around the farm.
Another thing that Mike has incorporated into their system to help keep his pastures healthy is that they transport water to animals using a trailer, rather than having fixed water lines. "With trailering water we don't end up with mud holes or livestock areas where they're wearing out the pasture," Mike said. In a system with permanent watering troughs animals will return to the same place over and over again, eventually wearing out the ground around the trough. Trailering water allows Mike to put it in a different place every time to distribute the impact on the fields.
Mike has had some financial and technical support from the National Resource Conservation Service (NRCS) along the way. "Back in 2000 we used the Environmental Quality Incentive Program (EQIP) fund to put our composting system in," Mike said. They also got a Conservation Stewardship Program (CSP) grant, which helped them add a pollinator habitat area to the farm. "We're finding that's a huge help with our insect populations here," Mike explained. "It's reducing aphids out in the bean fields, even though it's not right next door, it's helping. We're seeing those predatory insects with a place to go." NRCS programs have also helped with roadways, fencing for waterways, and other projects. "We've used that same funding to put in grasslands," Mike said. "With our rotation, in the 4-5 years that they're in pasture that's considered a grassland to them. Even though I call it a pasture, they [the NRCS] call it grasslands." 
Mike has observed several beneficial changes since shifting to integrated practices. Livestock health has improved, soil organic matter has increased, and the water-holding capacity of his soil has increased. He explained that in the early days of grazing sheep on the pasture, in the driest parts of summer, the only places that were still green were the drainage waterways. "Today, we go through a drought and those green areas are getting larger," Mike said. "I can hardly tell where those waterways are on the farm anymore. It's been a fun thing to see that."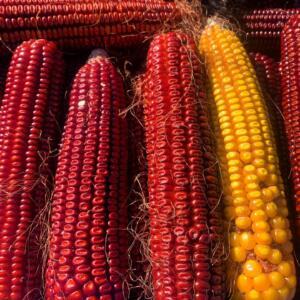 Another benefit that Mike is really excited about is looking into the nutrient density of the crops produced in the integrated systems. "In studies I've been doing looking at the nutrition of the crops," Mike explained, "the corn is probably running about 40% more nutritious than conventionally grown corn." With the einkorn and spelt he said they are "finding that we have about double the protein there than what you do in conventional wheat." Those nutrients circle back into the animals and into the soil, continuing to increase the health and resilience of his farm. Although that's not something that a lot of people are looking at yet, it's something that Mike hopes to study more in the future.
The former poultry operation has come a long way since Mike & Lona took over. By diversifying and integrating crops and livestock in innovative and responsive ways, they have set a ball in motion. "Things are changing quicker than I can imagine anymore," Mike said. "It is a pleasure to watch the bacteria and the fungi working in the soil."
Visit Shady Side Farm's webpage. 
Watch this short video with Mike Bronkema, produced by the Midwest Cover Crop Council.