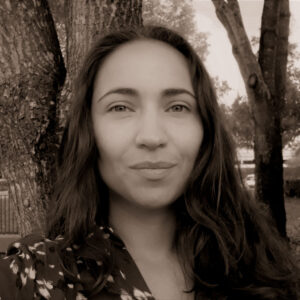 Research & Education Program Director
thelma[at]ofrf.org
Thelma Velez has been embedded in organic agriculture and sustainable food systems for over 12 years. She has extensive academic and professional experience in sustainable and organic agriculture education, research project management, and multi-institutional collaborative work. Over the years she has been privileged to work with rural and urban farmers and cooperatives in various regions of the U.S., the Caribbean, and India. 
She attended Florida International University (FIU) for both her undergraduate and master's degrees. During her time at FIU, she earned a B.A. in Sociology/Anthropology and certificates in: Agroecology, as well as, Biodiversity and Natural Resource Conservation. While working toward her M.S. degree, she was an integral part of FIU's Agroecology Program. She managed and supervised research projects at the university organic garden, on local farms, and in the soil lab. For her thesis she made biochar from an invasive tree species and applied it at various rates to measure carbon sequestration, as well as the impact on soil nutrients and Phaselous vulgaris growth in an organic agronomic study conducted at FIU and the USDA-ARS Subtropical Horticulture Research Station.
Thelma completed her Ph.D from Ohio State University's (OSU) College of Food, Agriculture, and Environmental Sciences in 2021. Her dissertation research centers on the expansion of agroecology in Puerto Rico, post-Hurricane Maria, as a means to create climate resilience and address climate injustices. While at OSU, she was sought after to collaborate on multiple projects, including the Ohio Sustainable Agriculture Education Network, OSU's Food Sustainability Panel, as well as, diversity and inclusion work with the Ohio Ecological Food and Farm Association, Ohio's primary organic certifying agency. She is excited to bring her experience to OFRF and help the organization fulfill its mission and goals.