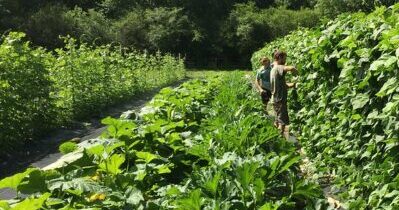 May 19, 2020 – This blog post was originally published on the National Sustainable Agriculture Coalition's (NSAC) website on November 8, 2019. The post has been updated and modified by Cristel Zoebisch, Climate Policy Associate for NSAC and OFRF, to reflect OFRF's recommendations submitted to the House Select Committee on the Climate Crisis. Exploring Agriculture's Role in Addressing Climate Change
The House Select Committee on the Climate Crisis (Select Committee) held a hearing in Fall 2019 to discuss the role of agriculture in identifying and implementing solutions to the climate crisis. It was the first time the Select Committee focused on the potential for America's farmers and ranchers to be a positive force in the nation's efforts to combat climate change. Hearing witnesses included Dr. Jennifer Moore-Kucera, Climate Initiative Director at American Farmland Trust; Fred Yoder, farmer and Co-Chair of Solutions from the Land; Tina Owens, Senior Director of Agricultural Funding and Communications at Danone North America; and Viral Amin, Vice President of Commercial Development & Strategy at DTE Energy's Power & Industrial Group.
Hearing Highlights
At the hearing, the Select Committee explored ways to help the agricultural sector increase carbon storage in farms, while also improving farm resiliency against severe weather events and increasing farm profitability. Key topics of discussion included the following. 
Increasing adoption of climate-smart agricultural practices, with special emphasis on cover crops, conservation tillage, and diversified crop rotations

Boosting research funding around climate adaptation and mitigation

Enhancing technical and financial assistance to increase conservation activities

Rewarding farmers for delivering ecosystem services
Both the witnesses and members of the Select Committee spoke at length about the different farm bill programs helping farmers adopt climate-smart agricultural practices. Many of those discussed included conservation programs that NSAC and its members, including OFRF, helped develop and/or have been instrumental in protecting over the last 30 years. Farm bill programs highlighted during the hearing included: the Conservation Stewardship Program (CSP), the Environmental Quality Incentives Program (EQIP), the Conservation Reserve Program (CRP), the Agricultural Conservation Easement Program, and the Regional Conservation Partnership Program. The Rural Energy for America Program and the Rural Energy Savings Program were also mentioned as programs through which the U.S. Department of Agriculture (USDA) has already seen successes implementing on-farm sustainability and efficiency activities.
Dr. Moore-Kucera explained to the Committee that there are already low-cost and proven methods through which farmers can sequester carbon and reduce greenhouse gas emissions on crop and ranchlands—many of which are supported by federal programs. In her testimony, she stated that the use of cover crops on 25 percent of cropland and conservation tillage on 100 percent of tillable acres in the U.S. could reduce agricultural emissions by a quarter.
Lawmakers from both sides of the aisle were interested in metrics and quantifying the impact of various climate-smart agricultural practices (e.g., cover crops, conservation tillage). Witnesses agreed that more research is needed around the metrics and reminded the Select Committee that there is no "one-size-fits-all" solution to the climate crisis. Democrats had questions about carbon markets and carbon taxes, and both Republicans and Democrats acknowledged the need for increased broadband across rural communities to engage more effectively with precision agriculture techniques and enable the collection of data that could then inform metrics around various agricultural practices. Regarding carbon markets and carbon taxes, Yoder explained that a tax credit would be helpful to get buy-in from landowners, which is important given that more than 50 percent of farmland is rented.
Many of the witnesses encouraged the Select Committee to make agriculture a key partner in fighting climate change, and they suggested that a comprehensive climate bill and/or a climate-focused farm bill would be the best vehicle for such changes to be implemented. Witnesses were also adamant that legislators ensure a prime seat at the table for farmers and ranchers when climate discussions and policy debates take place.
OFRF on Climate Change Mitigation and Adaptation
Research demonstrates that organic systems can help reduce agriculture's contribution to climate change. Organic farmers and ranchers use regenerative organic practices that build soil health, store carbon, release fewer greenhouse gases, and build resilience to the effects of climate change. In our comments, OFRF urged the Select Committee to fully recognize the capacity of organic farming and ranching systems to build agricultural resilience to extreme weather events and make a significant contribution to carbon sequestration and mitigation of greenhouse gas emissions arising from agricultural production.
Expand funding for research and prioritize climate change mitigation and organic agriculture research
OFRF called for expanded funding for the Sustainable Agriculture Research and Education (SARE) program and for permanent funding authorization for the 19 sites in the nationwide Long Term Agroecosystem Research (LTAR) Network. Additionally, OFRF urged the prioritization of climate change mitigation and climate-resilience research for both SARE and LTAR. 
OFRF also called for organic agriculture to be a priority for research since organic systems show considerable potential in enhancing resilience to drought and other extreme weather events. USDA's spending on organic research should be at least commensurate with the market share for organic foods, meaning that USDA should triple its current investment in organic research from 2% to at least 6%. LTAR research and any Requests for Applications for SARE and other competitive research grant programs should prioritize further development and refinement of organic systems' potential in mitigating climate change.
Advanced organic systems that integrate best crop genetics with best soil health and nutrient management practices can make a significant contribution toward slowing climate change. OFRF urged the Select Committee to establish organic systems that integrate crop genetics with soil health and nutrient management as a research priority for USDA Agricultural Research Service (ARS) and the National Institute of Food and Agriculture (NIFA) competitive grant programs.
Establish a national goal to make U.S. agriculture climate-neutral or climate-positive and provide a path forward to achieve this goal
In order to make agriculture climate-neutral or climate-positive, OFRF urged the Select Committee to establish climate as a resource concern for the Natural Resources Conservation Service (NRCS) and to modify conservation programs and standards accordingly. Furthermore, OFRF called for funding for the Conservation Stewardship Program (CSP) to be fully restored, for strengthening conservation compliance and sodsaver provisions in USDA programs, and for support for livestock producers to adopt management-intensive rotational grazing (MIG) and other advanced grazing management systems.
OFRF recommended policy and programmatic provisions across all USDA agencies that support livestock producers to make the transition from confinement to MIG livestock systems, and urged the Select Committee to emphasize in its final report the critical importance of the National Organic Program's (NOP) support for organic livestock producers to implement best advanced grazing management systems. NOP's additional guidance for organic livestock and pasture management is critical to realize the full potential of grass-based organic livestock systems to sequester carbon, enhance climate resilience, and improve food security.
Prioritize robust USDA funding for public cultivar development
Genetic diversity plays a key role in the capacity of U.S. agriculture and food systems to withstand the impacts of climate change and maintain the nation's food security. There is an urgent need to develop regionally adapted cultivars that perform well in organically managed soils that receive fewer inputs and provide for crop nutrition through biological processes.
In the past 15 years, many farmer-participatory plant breeding networks have developed and released new public cultivars of vegetable, grain, and dry bean crops that are especially suited to organic and low-input farming systems. However, available funding for these and other public plant breeding efforts amounts to only a small fraction of the current need and interest. OFRF urged the Select Committee to place a high priority on robust USDA funding for the development of public cultivars, with an emphasis on regionally adapted cultivars suited to organic production systems that optimize soil health for crop nutrition and crop protection.
Opt for organic and sustainable farming and ranching over "high tech" approaches
OFRF recommended that the Select Committee prioritize practices such as organic and sustainable farming and ranching, reforestation, agroforestry, and silvopasture under MIG management instead of "high tech" attempts to remove carbon by storing it deep underground. The most practical and cost-effective way to remove excess carbon from the atmosphere is through living plants and soils. The proposed "Carbon Capture and Storage" high tech approach may be more costly per ton of carbon stored, and may not stabilize the carbon as effectively as plant root-deposited carbon that has been microbially processed into stable soil organic carbon.
Ensure farmers and communities of color and economically disadvantaged producers and communities receive the support they need to overcome climate change impacts
OFRF recognizes that racial equity and mutual respect amongst racial and ethnic groups is an essential component to any climate mitigation and resilience strategy. All federal policies and programs must ensure that farmers and communities of color and economically disadvantaged producers and communities receive the support they need and deserve to overcome the disproportionately severe impacts of climate change they experience. 
Furthermore, OFRF recognizes the invaluable contributions of indigenous and other ethnic minorities to sustainable and organic agriculture and food systems and urges the Select Committee to fully acknowledge and utilize these contributions toward the goal of society-wide climate adaptation—with the contributions being respectfully utilized in a manner that benefits all, particularly those who contributed the knowledge and wisdom in the first place.
Final Thoughts
To cope with climate change that is expected to be both rapid and unpredictable, and for farmers to remain economically viable in the face of these challenges, agricultural systems must be resilient and able to adapt.
We believe that federal policies that include the recommendations outlined above will be those best positioned to support our farmers and ranchers in proactively addressing the climate crisis, as well as their own resilience and profitability. These recommendations can be applied to existing farm bill programs that directly address farm production and land stewardship issues; however, policy work beyond the farm bill is also needed.
The current COVID-19 pandemic has further highlighted the need for more resilient food and farming systems. While the final report from the Select Committee has been delayed indefinitely due to the pandemic, OFRF urges the Select Committee to resume its important work regarding climate change and recognize the potential of organic agriculture in mitigating climate change in its final report. OFRF calls upon federal policymakers to prioritize support for federal policies and programs that enable farmers and ranchers to adopt sustainable and organic agricultural production systems to address the challenges posed by a rapidly changing and disruptive global climate and increasing extreme weather events.