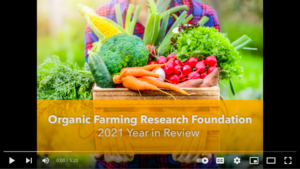 Organic Farming Research Foundation created a 5-minute reel of highlights from this past year. Watch this video for updates from its Research, Education, and Policy and Advocacy departments. Program successes include:
The soon-to-be released National Organic Research Agenda (NORA) report;
The 2021-22 organic research grant cycle that focuses on climate mitigation and resilience and prioritizes early career and Black, Indigenous, and People of Color researchers, farmers and ranchers;
Educational materials addressing the challenges of Southern US farmers;
A multi-year partnership with the Natural Resources Conservation Service (NRCS); and
Advocacy efforts for the Agriculture Resilience Act (ARA) in the new Biden-Harris Administration.
OFRF also expanded their staff in 2021 and have evaluated its strategic plan to focus on racial equity in all programming.
Subscribe to the OFRF YouTube Channel to watch this 2021 Year in Review and other videos.