August 18, 2020 –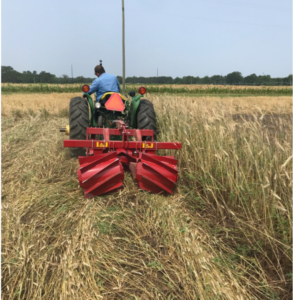 Balancing soil health and weed management is a serious challenge for organic producers. Tillage is an effective method of controlling weeds, but is energy intensive and can degrade soil health. Cover cropping is an alternative practice that can suppress weeds and build soil health. However, when to terminate cover crops is not straightforward. Terminating cover crops using a roller crimper—a piece of equipment that gently pushes the cover crop residue over the soil surface—has been shown to effectively suppress weeds in row-crops such as soybean, but less is known about the efficacy of roller-crimped cover crops in vegetable production. In 2019, OFRF provided a grant to Professor Alex Woodley at North Carolina State University to begin addressing this question in sweet potatoes, an economically important crop in North Carolina.
The study used a roller-crimper modified for sweet potato beds to assess whether fall planted cover crops mitigated the need for economically and environmentally costly tillage practices in organic sweet potato systems. In response to farmer-identified challenges, the study also examined whether cover crops present a tradeoff between soil health and pest management by providing habitat for wireworms, a significant pest in the study region.
Overall, the study demonstrated that when cover crop biomass is low, weed suppression is limited in cover cropped sweet potato beds. Yields were also significantly reduced in cover cropped beds in comparison to tilled beds, as a result of strong competition from weeds for water and nutrients, which was controlled through repeated cultivation in the tilled beds. Palmer Amaranth was primary driver in yield loss, which showed a remarkable ability to reduce soil nitrogen by 60%. Issues with drought and deer pressure may have also contributed to reduced yields overall, as yields in the tilled beds were also lower than expected. Cover cropping did not appear to increase the presence of wireworms, suggesting there is not a tradeoff between soil health and pest management in this system.
The project identified significant obstacles associated with using cover crop litter for weed management in sweet potato systems, indicating further research is warranted to optimize weed control practices and yields. The preliminary findings of this OFRF-funded project were leveraged to secure a $1.9 million OREI grant that will continue to explore how to implement roller-crimped cover crops for weed suppression in organic sweet potatoes.
Read the final report here.