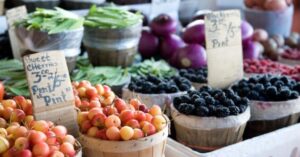 August 4, 2020 – The Organic Farming Research Foundation (OFRF) and Organic Seed Alliance (OSA) are conducting a USDA-funded national survey of certified organic producers and producers transitioning to organic production to identify their top challenges and research/Extension needs. As part of this project, we are seeking applications from organizations that support certified organic and transitioning agricultural producers to facilitate and coordinate a virtual focus group. Focus group data will be used to inform the 2021 National Organic Research Agenda (NORA) and State of Organic Seed (SOS) reports, and OFRF will provide organizations a $1,000 stipend for their help coordinating and facilitating one virtual focus group.
The goal of the focus groups is to hear directly from farmers and ranchers what issues or challenges they face on a number of important topics, such as organic production practices, economic and social barriers to organic production, and information and resources that would support their success as an organic producer. The information gathered from these discussions will be used to build a comprehensive roadmap for future research investments to advance organic agriculture across the United States.
If your organization is interested in supporting this important work, please visit our Request for Applications for more information about this opportunity and how to apply.
Applications must be submitted by September 15th by 5pm PST.
Applicants will be notified of selection by October 1, 2020.