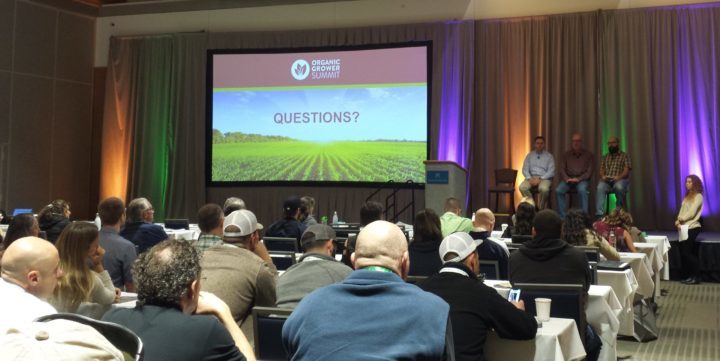 December 9, 2019 – When over 100 people arrived at our workshop on reducing risk through organic soil health practices at this year's Organic Growers Summit in Monterey, CA, I knew it would be an impactful morning. 
First, we heard from Phil Foster of Pinnacle Organically Grown, a well-known and well-respected farmer who works hard to improve the health of his soil. Phil shared strategies he uses such as cover cropping and producing his own compost as a means of reducing on-farm risk. After Phil, Jozsef Racsko of Mycorrhizal Applications carefully described the science behind fungal inoculants and the symbiotic relationships between plants and fungi. Lastly, Jared Zystro of the Organic Seed Alliance spoke about the importance of organically bred seed varieties, and ways the appropriate varieties can help protect our soils and our crops.
In the second half of the workshop, we broke into groups to discuss our research needs and priorities on a variety of topics (see photos below). As I looked around the room, farmers, researchers, non-profit staff, and agriculture service providers buzzed with energy as they discussed their research priorities. Whether they were sharing challenges with a specific pest, or the type of extension resources they needed to combat soil degradation, they all thoughtfully described their needs. 
And the buzz didn't stop when the workshop ended. Attendees stayed to chat with old friends and make new connections. It was a moment for hard-working people to gather and reflect on the past season and learn new strategies to reduce risk in the seasons to come. 
Submitted by Haley Baron, Education and Research Program Associate, OFRF