Every five years a U.S. Farm Bill is voted into law by Congress, directing hundreds of billions of dollars to flow into the food and agriculture systems.
The 2023 Farm Bill is right around the corner and now is the moment to act.
Help support farmers and advance organic agriculture in the 2023 Farm Bill. Thanks to a generous donor, contributions made today will be matched dollar for dollar up to $5,000!
OFRF heard loud and clear from organic and transitioning farmers and ranchers about their needs in the 2022 National Organic Research Agenda and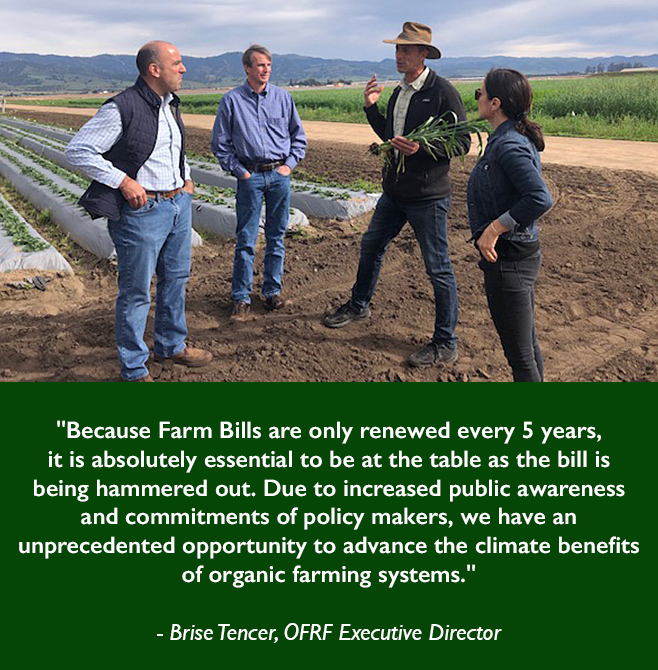 will be focusing our 2023 Farm Bill efforts on the following to address the challenges they are facing:
Increase the amount of funds dedicated to organic research at the USDA.
Push organic agriculture as a climate solution across USDA agencies and ensure organic and transitioning farmers receive resources they need to be successful.
Support the expansion of organic farming systems.
Together we can ensure organic farmers are properly supported for the following five years. And remember, the work to affect policy change isn't just needed in the six months before a Farm Bill, but instead it requires constant pressure, collaboration, education, commenting, and relationship-building all year long.
There are many ways to give to OFRF. And don't forget: donate today and your gift will be matched dollar for dollar, thanks to a generous donor.