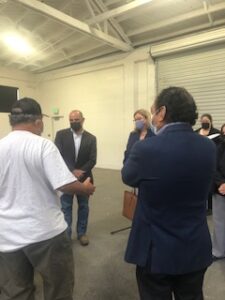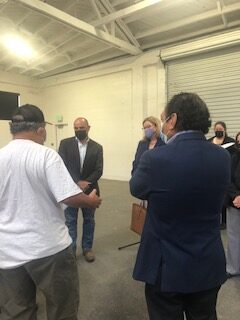 Two USDA COVID assistance programs were discussed, including the Pandemic Response and Safety Grant Program which has an approaching deadline of November 22.
The Organic Farming Research Foundation (OFRF) recently attended a USDA press with USDA Under Secretary for Marketing and Regulatory Programs Jenny Lester Moffitt and Congressman Jimmy Panetta (CA-20). The event discussed two federal pandemic assistance programs, the USDA's Pandemic Response and Safety Grant and the Farm and Food Worker Relief Grant, which total over $1 billion for affected workers and business.
"OFRF is excited to show support for these crucial USDA programs that will directly provide assistance to farmers who were affected by COVID-19," said Organic Farming Research Foundation Executive Director Brise Tencer.
The Pandemic Response and Safety Grant Program provides grants to state agencies, tribal entities and nonprofits who serve farms, farmworkers and meatpacking workers. Organizations such as food processors, distributors, producers and farmers markets are eligible to apply, and may be reimbursed between $1,500 to $20,000 for COVID-related expenses if awarded funding. The application period for the Pandemic Response and Safety Grant Program is currently open and closes November 22. "In the first 12 hours we had over 500 applicants already," said Lester Moffitt.
"We understand and value a farmworker, not just for what a farmworker did throughout the pandemic but what farmworkers do every single day," said Rep. Panetta. Rep. Panetta worked to ensure that the final Consolidated Appropriations Act, which authorizes and funds the Pandemic Response and Safety Grant Program, included funding to farmers, farmworkers, and essential workers who incurred safety-related expenses related to COVID-19.
The Farm and Food Worker Relief Grant Program provides assistance to farmworkers, meatpacking workers, and frontline grocery workers with funds being awarded by state agencies, tribal entities and nonprofits. Approximately $600 will be reimbursed to workers who receive funding to cover costs for expenses incurred because of of COVID-19. Applications for the Farm and Food Worker Relief Grant Program will open later this season, fall 2021.
"The Farm and Food Worker Relief Grant Program will provide $700 million for farmworkers, meatpacking workers and frontline grocery workers for pandemic-related safety costs," said Moffitt. "Costs that we know have been incurred for the past 18 months and incur still today during the pandemic."
"Farmworkers are first-responders that safeguard the harvest, a job they perform with utmost urgency and dignity to feed their loved ones and to sustain the nation's food security," said United Farm Workers Foundation Executive Director Diana Tellefson Torres. "Even under a deadly pandemic, life-threatening heat waves, and toxic wildfire smoke that kept the public indoors and in climate-controlled spaces, farmworkers continued to show up to work."
"They get up, they show up, they step up and the step into the fields and do the back-breaking work that many Americans will not do," added Rep. Panetta.
Rep. Panetta is also a co-sponsor of H.R.2803, the Agricultural Resilience Act (ARA). Earlier this year, OFRF facilitated a tour of the USDA Agricultural Research Service (ARS) in Salinas, Calif. for Representative Panetta's congressional staffers. The site visit focused on the importance of increased investment in organic research and was instrumental in the congressman's decision to co-sponsor the bill.
The press conference was held on October 7 at the United Farm Workers Foundation facility in Salinas, Calif. Also in attendance:
OFRF Executive Director Brise Tencer
National Vice President of the United Farm Workers Union Bonita Rivera
National Vice President and Regional Director for the Santa Cruz, San Benito and Monterey Bay area United Farm Workers Union Lauro Barajas.
A tour of JSM Organics Farm concluded the briefing.