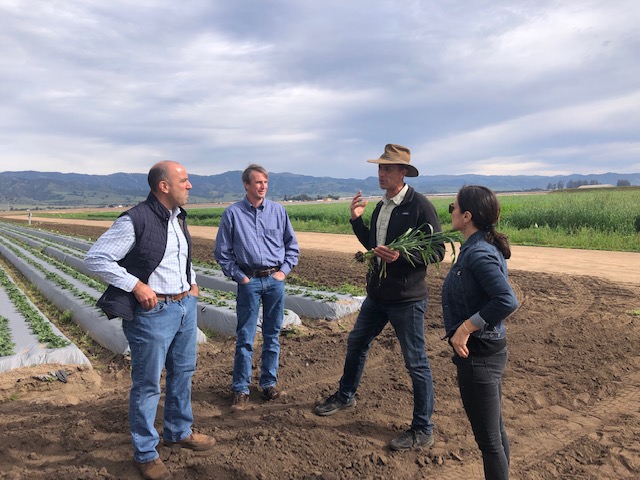 Organic Farming Research Foundation (OFRF) toured the USDA Agricultural Research Service (ARS) in Salinas, Calif. with Rep. Jimmy Panetta (CA-20), a co-sponsor for H.R. 2803, the Agricultural Resilience Act (ARA). This tour of the organic fields took place on Saturday, January 15, 2022, and marks the second time Rep. Panetta's congressional office has visited the ARS site with OFRF.
"Central Coast farmers and ranchers have always been on the leading edge of organic production, thanks to their hard work and partnerships with the U.S. Department of Agriculture and organizations like the Organic Farming Research Foundation," said Congressman Panetta. "I remain committed to elevating the needs of the organic producers I proudly represent, so they can continue to have the tools they need to adapt to climate stressors, invest in soil health, and succeed in the twenty-first century."
The Congressman and others in attendance were led on a tour by Dr. Eric Brennan, USDA Research Horticulturist. Dr. Brennan previously was awarded an OFRF on-farm research grant and his staff position at ARS was heavily advocated by OFRF nearly 20 years ago. He is the only dedicated organic ARS researcher in the country and his position is admittedly underfunded. Tour group members shared with Rep. Panetta their need for an increase in funding for organic at ARS countrywide, with a clear national strategy on how the agency can better serve the organic farming community.
"There could be an incredible opportunity to hire additional scientists and technicians to grow organic research," said Brise Tencer, Executive Director for Organic Farming Research Foundation.
The tour discussion also touched upon the importance of organic research to help improve growers' farming practices such as cover cropping and composting. Dr. Brennan was joined by organic grower Phil Foster and Bill Wintermantel, Research Plant Pathologist and Acting Research Director at USDA.
OFRF, whose mission has been to advance the improvement and widespread adoption of organic farming systems, has invested in over $3M and awarded over 350 grants for on-farm, science-based research. All OFRF-funded research results are accessible online for free.