OFRF Attends Latino Farmer Conference and Announces Spanish-language Soil Health Course – Coming Summer 2023!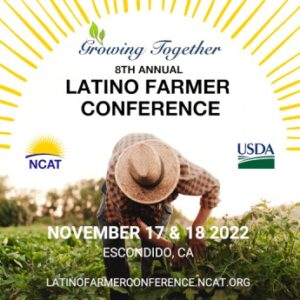 The National Center for Appropriate Technology (NCAT) and USDA's Natural Resources Conservation Service (NRCS) partnered to host the 8th annual Latino Farmer Conference on November 17th and 18th at the California Center for the Arts in Escondido. This was a two day conference meant to bring together sustainable agriculture professionals for a special all Spanish-language event.
While at the conference, OFRF's Deputy Director, Dominica Navarro, was able to witness first-hand the unique networking and learning opportunities presented for Latino farmers, as well as spread the word about a new Spanish-language Soil Health Course OFRF will be releasing in Summer 2023.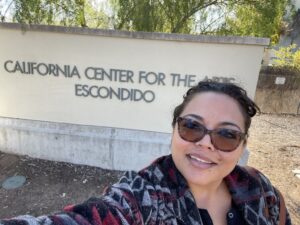 The conference was a much needed opportunity for Latino farmers and other service providers to convene. "With such strong Latino/a/x representation in agriculture, this conference was a wonderful opportunity to meet other Latino/a's doing similar work and with like values," said Dominica. "As a Latina in agriculture myself, I would love to see more opportunities like this for historically underserved farmers everywhere."  Topics covered at the conference included: sustainable farming practices, technical assistance, business management, health and wellness, land access and even included a session on how to transition to organic!  
OFRF Spanish-language Soil Health Course
In OFRF's free online Spanish-language course, coming Summer 2023, we delve into the world of soil and explain how you can promote soil health as part of a healthy ecosystem for humans, plants and other organisms that live within the soil. We discuss the basics of soil health, practices like nutrient management, cover cropping, crop rotation, and also provide tools to help you decide which management practices are best for you and your farm. Our goal is to provide up-to-date science, as well as culturally relevant information for farmers from diverse backgrounds. This course is being developed with the help of partners at UC Davis's Sustainable Agriculture Research & Education Program (UC SAREP), the Agriculture and Land-based Training Association (ALBA), and the National Center for Appropriate Technology (NCAT). 

Are you a Spanish-speaking farmer in California? Would you like to help us review the course? If so, please contact Research & Education Director, Thelma Velez at thelma@ofrf.org