Trevor Findley (he/him/his) is OFRF's Senior Policy Associate and has been with the organization since 2021. He is based in Washington, DC, and has been working in food and agricultural policy since 2015. His belief that everyone should have access to healthy, nutritious, and culturally-relevant food makes Trevor a strong advocate for farmers and ranchers who are helping make that a reality. When Trevor isn't focused on policy work for OFRF, he enjoys triathlons, mountain biking, cooking and baking.
---
Tell us about yourself.
I grew up in rural Oregon and worked on a farm during the summer throughout high school and college, which sparked an ongoing interest in food and agricultural issues.  In high school and college I had the opportunity to study abroad in Japan and Sweden, respectively, and I majored in international studies as an undergraduate. After college I taught elementary school and worked in rural development for a couple years each before going to law school.  I worked in private practice for a little while in Oregon, then moved to Washington DC to work on federal food and agricultural policy.
Why do you care about organic farming and/or organic research?
Having worked on a farm throughout high school and college, I care a lot about farmworker health and believe that organic farming practices are safer for farmworkers.  I also care about the environment and my own personal health, and believe that organic practices create a safer, healthier environment and food system.
Who is your farming, research and/or food hero – and why?
I recently read Braiding Sweetgrass: Indigenous Wisdom, Scientific Knowledge, and the Teachings of Plants by Robin Wall Kimmerer and loved it.  She's an Indigenous botanist and amazing writer who, as the book title suggests, weaves together scientific knowledge with Indigenous wisdom in a way that illuminates how we should be looking at the natural world.  Organic farming today is built on the traditions of Indigenous farmers and ranchers, and I think there is still a lot we can learn by looking at how those who came before us lived in harmony with the land.
What are you excited about working on at OFRF?
I previously worked for the USDA and am excited to be a more vocal advocate than I could be while I was working for the federal government.  There are a number of things I think the government does well, but also a lot of things I think the government can do better and that's what I'm excited to advocate for.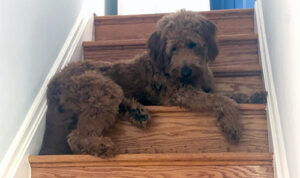 I've long been an organic consumer and believe in OFRF's mission that we need more organic research and more organic acreage, and I look forward to working towards both of those things.
Anything else you'd like to share?
I recently adopted a dog named Clif (featured right) and he's very glad I work from home.