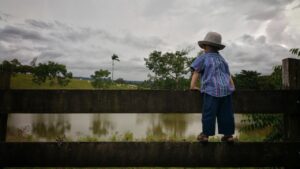 October 14, 2020 – Each day our small and mighty team works tirelessly to fund innovative organic research, provide the most up-to-date, science-based, farmer-led resources to farmers, advocate for organic farming as a climate solution in Washington, DC, and educate consumers about best organic farming practices.
Over our 30 year history, we have been inspired and motivated by the ongoing support of our community and the many ways they contribute to our work. Long-term support such as sustaining gifts, bequests, and donating stocks, not only supports us today—it enables us to plan and allocate resources for the work ahead of us. For that, we are truly grateful.
We are extremely proud to do this work, but we can't do it without your support. We don't charge membership dues or collect association fees. We fundraise for every dollar, and we make sure those dollars go directly to on-farm research, educational programs, and advocacy on behalf of organic farmers and ranchers. When you give to OFRF, we provide organic farmers the information and resources they need to be successful. For free. 
So, let's explore the many ways you can contribute to OFRF. While most people give through our online donation page, there are other options that provide even greater stability to our work. No matter how you give, we are so honored to be part of your giving story. Your gift ensures that organic farmers are supported with unbiased research, up-to-date free educational materials, and federal advocacy that fights for their needs.
Sustaining Donation – By setting up a sustaining gift, we can better plan for future work since we have a clear idea of our financial stability. Whether it be weekly, monthly, or quarterly, our online donation page allows you to ensure you can give on a regular basis.
Bequests – There's no better way to show your support of organic farmers and the fight to curb climate change than naming OFRF in your will. Bequests offer a huge tax benefit as they are fully deductible from your estate. You can add the bequest when updating your will or when writing a new will. If you have chosen to leave a bequest to OFRF, please let us know so we can plan ahead. We look forward to honoring your commitment to our work. 
Donor Advised Funds (DAFS) – Donor Advised Funds are like your own individual philanthropic fund that handles the administration of charitable contributions, all while receiving an immediate tax deduction. OFRF can receive DAF funds through electronic transfer or check. 
Stocks – Giving stocks allows you to give more than you might normally in cash. It's easy to do using our simple form or if you have a Donor Advised Fund. Stock donations also allow you to avoid capital gains tax. 
Retirement funds – If you are 70 years or older, you can transfer Qualified Charitable Distributions (QCDs) directly from your IRA account to OFRF. QCDs are excluded from the taxable income from your retirement account. The process varies depending on the retirement fund you hold, so we suggest researching or discussing with your tax professional. 
Vehicles – Do you have an old car or vehicle that you are itching to get rid of? You can donate it to OFRF using Car Easy. They handle all of the paperwork, pick-up your vehicle and provide OFRF with the donated value.
Now that you've learned about all the ways you can give, what are you waiting for?! We are in a pivotal moment, where together we can advance best organic practices that build soil health and curb climate change. Organic agricultural practices are a climate change solution, so we hope you can donate today to help us bring more acres into organic!
If you have any questions or want to discuss these options, please send Haley Baron, our Partnership and Development Manager an email at give@ofrf.org. Thank you!