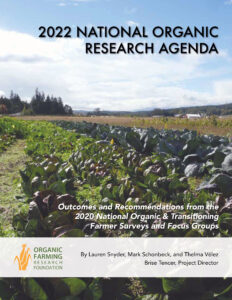 The Organic Farming Research Foundation 2022 National Organic Research Agenda (NORA) is a report informed by surveys and focus groups conducted in 2020 with over 1,100 certified organic farmers and ranchers across North America.
What Farmers Said
In the NORA report, two-thirds of survey respondents (67%) cited weed management as a substantial production challenge.
Specific feedback from organic farmers also underscores the need for additional research on controlling weeds such as Canadian thistle.
Knowing Your Weeds
Farmers and researchers alike acknowledge that weeds pose the greatest barrier to building healthy soils in organic cropping systems. Management of weeds in an organic cropping system involves integration of many separate management tactics. Which tactics you use will depend on the weed species present, the crop, the time of year the crop is planted, the type of equipment you have available, other crops in the rotation, and other site and operation-specific factors.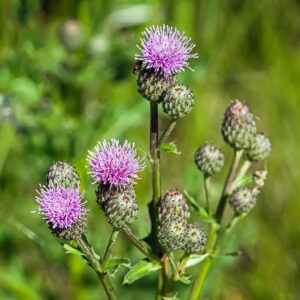 Managing Canada Thistle
Because Canada thistle has a deep root system, the only approach for controlling this weed is to exhaust the storage roots and prevent further weed seed contamination. Food reserves in the roots reach a minimum near the onset of hot weather when the shoots reach about 12" tall and then increase as energy flows from the shoots to the storage roots.
The following steps are key to soil health:
Keep the soil covered
Maximize living roots in thesis profile
Minimize soil disturbance
Energize the system with biodiversity
To reduce the impact of Canada thistle on production, farmers can:
Remove shoots by late spring
Consider cover cropping and institute crop rotations
Consider occultation
Implement rotational grazing
For more on weed management and applicable solutions that control this common weed, farmers can download OFRF's Weed Management Guide and Weed Profile on Canada Thistle.