By Trevor Findley, OFRF Senior Policy Associate
The Organic Farming Research Foundation (OFRF) had a busy year advocating for policies that benefit organic farmers. The following are excerpts from several policy articles that highlight the breadth of issues that OFRF worked on this year. They demonstrate the progress we've made, the relationships we've established, and ongoing work advancing OFRF's mission to foster the improvement and widespread adoption of organic farming systems.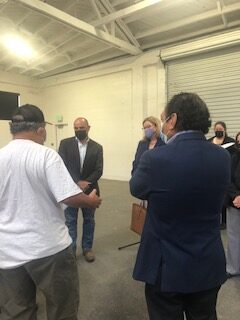 1.  OFRF Attends USDA Briefing with Under Secretary Moffitt and Rep. Panetta
In October, OFRF attended a USDA press briefing with USDA Under Secretary for Marketing and Regulatory Programs Jenny Lester Moffitt and Congressman Jimmy Panetta (CA-20). The event discussed two federal pandemic assistance programs, the USDA's Pandemic Response and Safety Grant and the Farm and Food Worker Relief Grant, which total over $1 billion for affected workers and businesses.

2.  OFRF Asks Congress to Increase Funding for Organic Research
Throughout Congressional budget reconciliation discussions, the OFRF policy team has worked with both the House and Senate to advocate for more federally funded organic agriculture research. Currently, the House-passed version of the bill is unlikely to move forward in the Senate, but President Biden has committed to continuing his efforts to pass a bill in the new year. As Congress continues its discussions, OFRF will continue to work with members of the House and Senate to support an increase in funding for the Organic Agriculture Research and Extension Initiative (OREI) and other agricultural research investments. OREI funds research, education, and extension programs that help organic producers and processors to grow and market organic products.
3.  OFRF Meets with Under Secretary Lester Moffitt to Ask USDA to Prioritize Support for Producers Transitioning to Organic
In August, OFRF and its advisors met with organic farmer and the then newly-confirmed USDA Under Secretary Jenny Lester Moffitt and Senior Advisor Mike Schimdt to discuss the department's plans to help producers transition to organic production. USDA Secretary Vilsack has previously announced that the department will spend a couple hundred million dollars to help farmers and ranchers transition to organic. Given OFRF's research focus and in-depth analysis in the National Organic Research Agenda, OFRF was well-equipped to provide the department with the following recommendations that will help producers transition to organic farming:
4. OFRF Tours USDA Agricultural Research Service, Rep. Jimmy Panetta to Co-Sponsor ARA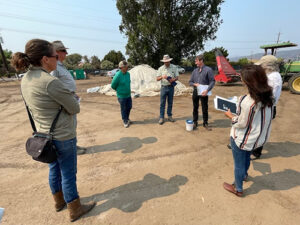 Also in August, OFRF hosted Representative Jimmy Panetta's (CA-20) congressional staffers at the USDA Agricultural Research Service (ARS) in Salinas, Calif. The site visit focused on the importance of increased investment in organic research and was instrumental in Rep. Panetta's decision to co-sponsor the Agricultural Resilience Act (ARA).
OFRF organized the tour of the organic fields at the ARS led by Dr. Eric Brennan, USDA Research Horticulturist and the ARS' only dedicated organic researcher in the country. California organic farmers in attendance shared their firsthand experience in applying organic research to their farming practices, including composting and cover cropping. Attendees emphasized the importance of investing more research dollars to organic farming practices at the Salinas facility and other ARS locations.
Rep. Panetta's decision to co-sponsor the ARA was informed by his careful review of the bill text as well as the work and education provided by OFRF.
5.  OFRF Staff Participates in Virtual Fly-In to Ask Congress to Bolster Organic
In July, OFRF participated in the Organic Trade Association's (OTA) virtual fly-in, where organic supporters asked members of Congress to support a bill to increase accountability in organic standards.
The bill proposed by OTA, HR 2918 – Continuous Improvement and Accountability in Organic Standards Act, would require USDA to do three things: (1) clear the backlog of recommendations from the NOSB that have not been implemented, (2) issue a final rule to implement all new recommendations within one year of the NOSB approving the recommendation, and (3) report to Congress on an annual basis whether certifiers have implemented the new rules and whether any inconsistencies exist.
6. The Agriculture Resilience Act – Good for the Climate, Good for Organic
OFRF, along with many other groups, endorsed the introduction of the Agriculture Resilience Act of 2021 (ARA) when the bill was introduced in April by Representative Chellie Pingree (D-ME), herself an organic farmer, and Senator Martin Heinrich (D-NM).
The ARA is a farmer-focused, research-driven path to net zero agriculture. The legislation establishes ambitious yet achievable goals for the agriculture sector to reach net zero by 2040. The bill improves and expands upon many existing programs while creating a few new grant programs to support its six programmatic building blocks:
Increasing investments in agricultural research
Improving soil health
Supporting the transition to pasture-based livestock
Ensuring farmland preservation and viability
Promoting on-farm renewable energy
Reducing food waste