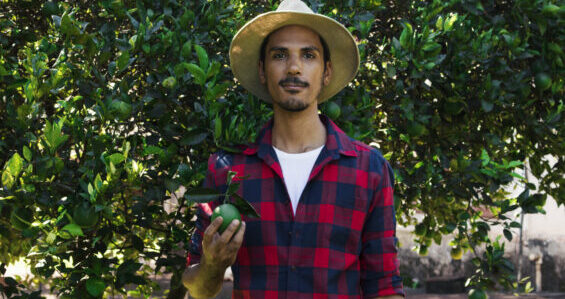 November 17, 2020 – With a new administration moving into the White House, it is more important than ever to make organic voices heard. OFRF has delivered a transition letter to the Biden-Harris Administration with a list of action steps they can take immediately to increase support of organic agriculture at the U.S. Department of Agriculture (USDA). We have developed a set of concrete policy recommendations for Congress and are meeting with USDA to ensure our research recommendations are prioritized.
The election is over, but the work starts now.
Organic agriculture must be part of the climate solution.
Through regenerative organic practices that build soil health, farmers can more easily weather the storms and extreme temperatures that have become our new normal. Together, practices such as cover cropping, crop rotations, and conservation tillage work with nature to build healthy soil and help mitigate climate change by capturing and storing more carbon and reducing greenhouse gas emissions. It is critical for federal policies to support producers adopting these practices and promote the expansion of organic acres.
What we are doing
OFRF has spent the last five months working closely with partner organizations to align on key priorities and strategies, writing public comments and extensive blog posts, strengthening our coalitions, and developing research and policy recommendations in preparation for the first 100 days of the next Administration, future climate bills, and the 2023 Farm Bill.
We are investing more resources into funding on-farm research to foster climate mitigation and adaptation, developing grower education resources to support the adoption of best soil health practices, and advancing our four-part policy platform to ensure that any federal level climate policy includes support for organic farmers and ranchers as critical partners in our climate change mitigation efforts.
To enhance regenerative organic agriculture's potential to address the climate crisis, Congress needs to:
Increase investments in organic agriculture research.

Remove barriers and strengthen support for organic systems.

Promote the widespread adoption of organic agriculture through technical assistance and financial incentives.

Expand research to advance our understanding of organic farming practices that sequester carbon, reduce greenhouse gas emissions, and build resilience, as well as identifying barriers to adoption.
OFRF encourages the Administration and legislators to ensure sustainable and organic farmers and ranchers have a seat at the table as climate policy discussions continue to develop. We encourage Congress to use the Agriculture Resilience Act (HR 5861) as a roadmap for comprehensive policy proposals that expand and improve existing USDA programs so agriculture can fulfill its climate mitigating potential and be part of the solution.
What YOU can do
Buy organic! The best way to build momentum and show policy makers that organic farming matters is by building demand.

Now is the time to learn more about these issues by reading the latest blog posts and exploring our climate advocacy toolkit.

We hope with your newfound knowledge you will share this information with your community on social media and around the dinner table.

Learn more about how your Members of Congress normally vote on issues of climate change and agriculture. Find out who represents you in Congress by searching a database by your zip code or state. OFRF will share opportunities to get engaged with policy makers and make your voice heard.
Donate to OFRF and other organizations who are working tirelessly on these efforts. We can't do this work without your support so we encourage you to give what you can today to ensure 2021 is the year we begin to curb climate change and better support organic farmers.