Dr. Jennifer Taylor and her husband started Lola's Organic Farm in 2009, but Taylor's family has been working the land there for much longer. Her grandmother, Lola, who the farm is named after, was a sharecropper in rural Georgia who was given the opportunity to buy her own farmland. She became a successful independent farmer, on the land where Lola's Organic Farm (LOF) is located today.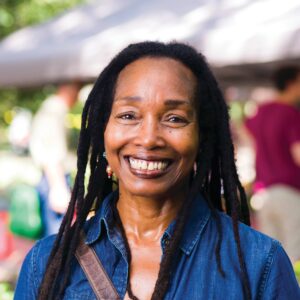 "We grow many of the same crops my grandmother grew, such as unique varieties of delicious colorful vegetables, fruit, and herbs," says Taylor. And while today the farming practices at LOF differentiate it from nearby farms (LOF is one of the only certified organic farms in the surrounding counties), growing organically is not new to the family's farming practices. "When my grandmother was farming," explains Taylor, "she used organic farming practices before organic certification even existed. For us, organic farming and agroecology not only builds healthy soil and healthy environments, but also supports access to healthy foods in our communities. I believe organic farming systems can, and should, be enjoyed by all farmers and consumers – in all communities." LOF has been certified organic since 2011, and the label has helped them access markets. "It speaks to the customers," Taylor says. 
For us, organic farming and agroecology not only builds healthy soil and healthy environments, but also supports access to healthy foods in our communities. – Dr. Jennifer Taylor
In addition to providing organic food for local markets, Taylor and LOF recognize that small and BIPOC farmers have something else of value that benefits local communities: knowledge, or, as Taylor calls it, more specifically, traditional agroecology knowledge. LOF has been described as a kind of "mecca" for people learning about organic agriculture and furthering the organic movement. The farm hosts many types of educational tours and events, and Dr. Taylor, through her work at Florida A&M University, is a celebrated small farm specialist who connects farmers to researchers and vice versa. Winner of the Florida Department of Agriculture's Woman of the Year in Agriculture Award in 2019, Taylor is head of a farmer-led research project (partially supported by OFRF) designed to identify needs, hindrances, and barriers of small and BIPOC farmers and works with farmers to develop solutions and resources through relevant learning sessions that provide education, hands-on training, and technical assistance. 
Taylor's work engages researchers with farmers on the ground and works to amplify farmers' voices and knowledge. "This project, and on-farm research in general, enables relationship-building with the farmer, the community, and researchers. It builds a unique opportunity to support the specific needs of that farmer and says to the world that farmers have important knowledge to share," said Taylor. "This is particularly true for BIPOC farmers and communities because it gives us hope and empowerment that our voice matters. It brings our voices to the forefront of this movement."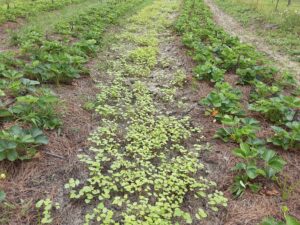 Small and traditionally-underrepresented farmers make up a farming majority in this (and other) areas of the country. As President of Florida A&M University, Larry Robinson, PhD, points out, "Somewhere around 90% of the farms are small farms, right? So although you might drive through these vast acreages of farmland in Florida, the vast majority of farmers (the people) are small farmers, underrepresented farmers, low-resource farmers, etc. But as a nation and as a state, we really have to be concerned about their existence, because it's really those small farmers that make us whole." 
To learn more about Dr. Taylor and her work, watch this video by the Florida Department of Agriculture from 2019, when Dr. Taylor was awarded "Woman of the Year in Agriculture".