How Animal Integration and Crop Rotations Help Sustain Generations of Farmers at Elmwood Stock Farm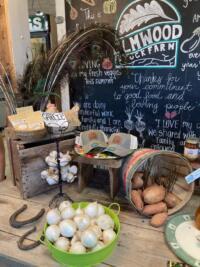 Elmwood Stock Farm is a diversified organic farm in Georgetown, Kentucky, producing mixed vegetables, fruits, beef, chicken, turkey, lamb, pork and value-added products. As a sixth-generation farm, Elmwood has learned to adapt to changing times, shifts in market opportunities, and modifications in state and Federal support programs over the generations. For farmer John Bell, a key to Elmwood's success has been an ongoing fertility program based on crop-livestock integration and long crop rotations. For the Bell family, the presence of livestock and the practice of crop rotations are part of a family-farm heritage, one that has long been supported by programs like those offered by the National Resource Conservation Service (NRCS).
At Elmwood, land remains in perennial pasture with multi-species grazing for 4-5 years before being opened up for intensive vegetable or grain production for 3 years. This type of fertility program, with a focus on long rest periods and grazing, is not new to the farm. Even before organic certification, John Bell's parents and grandparents farmed tobacco with a similar rotation, raising hay and cattle on lands for four or more years before switching to tobacco for a few seasons. Utilizing programs like those offered by NRCS is not new to the farm, either. Decades ago the Bell family used programs of the Soil Conservation Service, the precursor to the NRCS, to develop a spring on the farm into a system of gravity-fed tanks for livestock water, a system that is still in use today.
"Long-term, it's the fertility program that usually determines whether somebody is successful with organic."
-John Bell
More recently, Elmwood has utilized the NRCS High Tunnel Initiative three separate times for season extension of high-value, high-demand crops like tomatoes. For years, Elmwood had three, 300' Haygrove high tunnels, but they wanted to increase production. They also recognized a need for rest periods for their existing tunnels, to mitigate problems with continuous production like salt buildup and nematodes. The first time they used the NRCS initiative to install a 100' tunnel (the maximum length for that initiative) next to the existing tunnels. Their second year using the initiative, they added another 100' to that new tunnel, plus they installed another 100' themselves to bring it to 300' to match the Haygroves.
Now, at least one tunnel is rested each year, with the plastic off so that rain and weather interact with the soil, which helps mitigate the buildup of salt and nematodes. The third year using the initiative they installed 100' of what will become the fifth tunnel, so that two tunnels are rested each year.
John has also utilized incentives like NRCS-EQIP (Environmental Quality Incentives Program) to plant overwintering cover crops and to help establish diverse pastures when rotating fields out of their 3 years of vegetable and grain production. In the future, Elmwood may look toward using the CSP (Conservation Stewardship Program) or related programs for support with pasture and forage diversification. In order to maintain organic certification, all requirements of any program must be allowable under the National Organic Program. The NRCS, along with organizations like OFRF, are working to ensure that programs and support are suitable for organic systems.
Click below to listen to a short audio clip where John speaks about the importance of a fertility program to the success of an organic farm. This clip is from a farm visit conducted by OFRF in August, 2023. 
To learn more about NRCS programs and resources for organic farmers, visit the Organic Agriculture page. For more information on Elmwood Stock Farm, visit their website and stay tuned to OFRF for our upcoming release of Tillage Tools and Practices in Organic Farming Systems in cooperation with the NRCS, a resource full of farmer features, including Elmwood Stock Farm.
At right: Farmer John Bell discusses pasture diversification at a production field that was recently planted with multi-species pasture mixes. August, 2023.